Your Private Driver in Strasbourg & Alsace
---
---
VTC Strasbourgeoise is a Prestigious & High class transport company in Strasbourg, with Private Driver, located in Alsace close to the border with Germany and Switzerland. Our trips are made with an E20 mercedes.
Comfort and a high-end service,
Professional and courteous drivers,
VTC Strasbourgeoise, your Private Driver in Strasbourg, meets all your needs and offers prestige and comfort trip with competitive and accessible rates for a high quality service. You can fully trust us whatever your request is: Train stations, Airports, Sightseeing tours, Business trips, and also weddings,
Confidence and more!
---
Transfer airports and train stations
Available 24 hours a day, 7 days a week
Online booking
Wifi on board
Safe & ecological driving
---
We will be happy to satisfy all your needs and bring you where you want!
Do not hesitate to contact us for a personalized journey quote, 24 hours a day, 7 days a week:
---
The benefits of your private driver in Strasbourg
---
Transportation is our passion and our drivers are exceptional, find the advantages of a driver in Strasbourg with an irreproachable quality of service. Our drivers are available, able to adapt and are at your disposal for all your needs to move to Alsace, Germany or Switzerland.
---
---
Services of your Driver in Strasbourg
---
Where are we? Your Private Driver in Strasbourg & Alsace
You are looking for the driver in Strasbourg that makes the difference. Our key point is our presence in Strasbourg and in all the surrounding regions: Alsase, Lorraine, Germany and Switzerland. We also serve the railway stations and airports of these regions, in particular the Strasbourg and Basel-Mulhouse airports.
We extend our services in all these regions to help our clients go wherever they want. You have to go to the European Parliament? Basel-Mulhouse Airport? Business meeting in Stuttgart? A trip with colleagues or friends on the wine route? Shopping in Frankfurt?
We offer the possibility to everyone to have access to a quality transport service, you can move easily with our company
Whatever your need, whatever your destination is our Transportation company from Strasbourg, will fulfill your requests from and to Strasbourg or Alsace.
---
Pros of private drivers in Strasbourg:
What makes our strength is our immediate availability and our network. We are partners with several private drivers in the region and beyond, throughout France and Germany. We will be able to satisfy all your needs. We can for example contact our trusted partner in Strasbourg that makes ecological trips.
---
---
Driver in Strasbourg, Our President speech:
---
Our Strasbourg Transport company is innovative in this sector. VTC Strasbourgeoise face challenges to provide an excellent service in transport sector.
VTC Strasbourgeoise has been entirely designed to meet your needs and requirements.
Your trust and the loyalty of our clients, is our greatest reward!
Our objective is to make you a loyal customer and we have all the means that allow us to do this
---
With VTC Strasbourgeoise, travel to Strasbourg in a class E 200 high-end comfort
---
Looking for comfort? Luxury? A high-end service? A, unique experience ? A safe trip?
Mercedes E 200 guarantee your well-being during your trip. It is one of the safest and most comfortable high class vehicules. In this vehicle, everything has been designed for the wellbeing of the driver but also passengers. You'll feed a total comfort in our Mercedes E 200!
---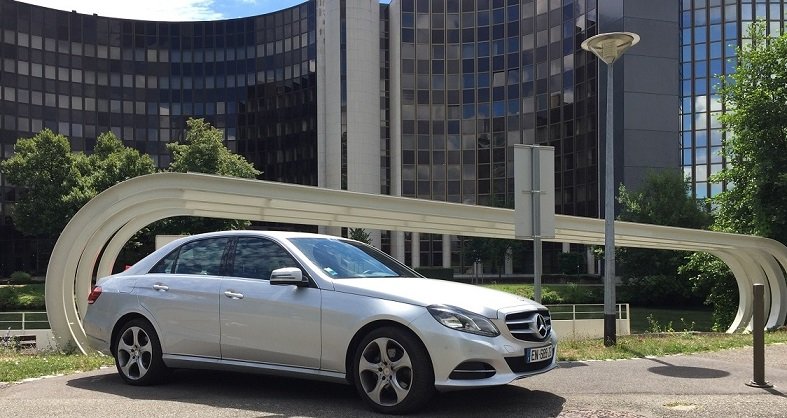 ---
Do you have high demands? With an accessible budget, let yourself be transported to Strasbourg, Alsace, Germany and Switzerland in high-end comfort. VTC Strasbourgeoise, your Private Driver in Strasbourg, has thought of everything so that each of your journeys is a unique experience.
SECURITY & SERVICE
You demand safe driving, a vehicle designed for the comfort and safety of passengers? Our drivers have been trained for a flexible and responsive driving to ensure a top-of-the-range movement.
---
PROFESSIONALISM
Clean clothing, respect for the customer, courtesy and adaptability to your requests are qualities we show to each customer during each trip. With VTC Strasbourgeoise, opt for a professional driver.
---
PUNCTUALITY
Arriving at the appointed time arriving at the agreed time at destination is our philosophy. Thanks to VTC Strasbourgeoise, no worries, you will never be late again. Our driver will contact you as soon as he arrives so that you do not have to wait for him.
---
---
---
---
Are you looking for a trusted Private Driver in Strasbourg and Alsace? You can count on our experience and professionalism. We will make every effort to meet your requirements and make your trip to Strasbourg, Alsace and beyond in Switzerland and Germany a unique experience.
VTC Strasbourgeoise offers a simple and modern offer to meet your requirements. You can easily order your trip to Strasbourg via our booking module, our contact form but also by phone at
07 53 03 39 90.
Whatever your journey and the reason for it, you can bring your full confidence to VTC Strasbourgeoise, your Chauffeur in Strasbourg.
Because for us every customer matters, our company and Private Driver will be your trust partners
---